Tasting traditional Slovenian foods is a delicious and exciting way to discover more about our country. Every dish carries with a story from the past and a piece of what makes Slovenians who we are. Here are some traditional foods to keep on the lookout for when you visit Slovenia.
1. Prekmurska gibanica
We may be starting our list with a dessert, but prekmurska gibanica or Prekmurje layer cake is one of the first dishes that Slovenians would name as a traditional Slovenian food. Protected with EU's Traditional Specialty Guaranteed label, this cake originates from the easternmost parts of Slovenia. It traditionally consists of 19 layers, all richly covered with cream, eggs, and butter, and four different fillings: cottage cheese, poppy seed, walnut, and apple filling.
Traditionally, the prekmurska gibanica was a dessert for special occasions: the cake is very rich, and the ingredients didn't come cheap. The name of the cake comes its many folds, called gube in Slovenian.
Prekmurska gibanica is sometimes mistakenly called the Over-Mura Moving Cake. Photo: Jošt Gantar. Source: www.slovenia.info.
Where to get: prekmurska gibanica can be found all over Slovenia nowadays. Recommendations include Güjžina and Šestica in Ljubljana, Rajh in Murska Sobota, and Hiša Kruha in Maribor.
2. Idrijski žlikrofi
Idrijski žlikrofi are another Slovenian dish labelled with Traditional Specialty Guaranteed. They stem from a town called Idrija, a place in western Slovenia. Žlikrofi are small dumplings made of soft pasta dough. Shape-wise, they can be compared with Italian ravioli. The typical filling is made of potatoes, fat, onions, and herbs, but it often contains pork crackling, bacon jam, or bacon. They can be served as the main or a side dish.
Idrijski žlikrofi are associated with a miner's lifestyle: Idrija was famous for the second largest quicksilver mine in the world. The mine has been turned into a museum, and idrijski žlikrofi have long since made their way from the home table to restaurants, but they have changed little. The oldest preserved recipe dates back to 1936, and the only notable changes include a certain degree of experimentation with the filling.
Where to get: try Gostilna Kos or Gostišče Barbara in Idrija, Marley & Me in Ljubljana, and Lectar in Radovljica. For a more experimental variety with beef filling, try Mal'ca Mimogrede in Maribor.
3. Kremna rezina
This lovely treat comes from Bled, a charming little town nestled under the Alps. Two layers of phyllo pastry frame thick layers of vanilla cream and whipped cream. This dessert was created after the Second World War by adding whipped cream to the Hungarian cream cake. Nowadays, no trip to Bled is complete without enjoying a kremna rezina with a view of the Bled Lake.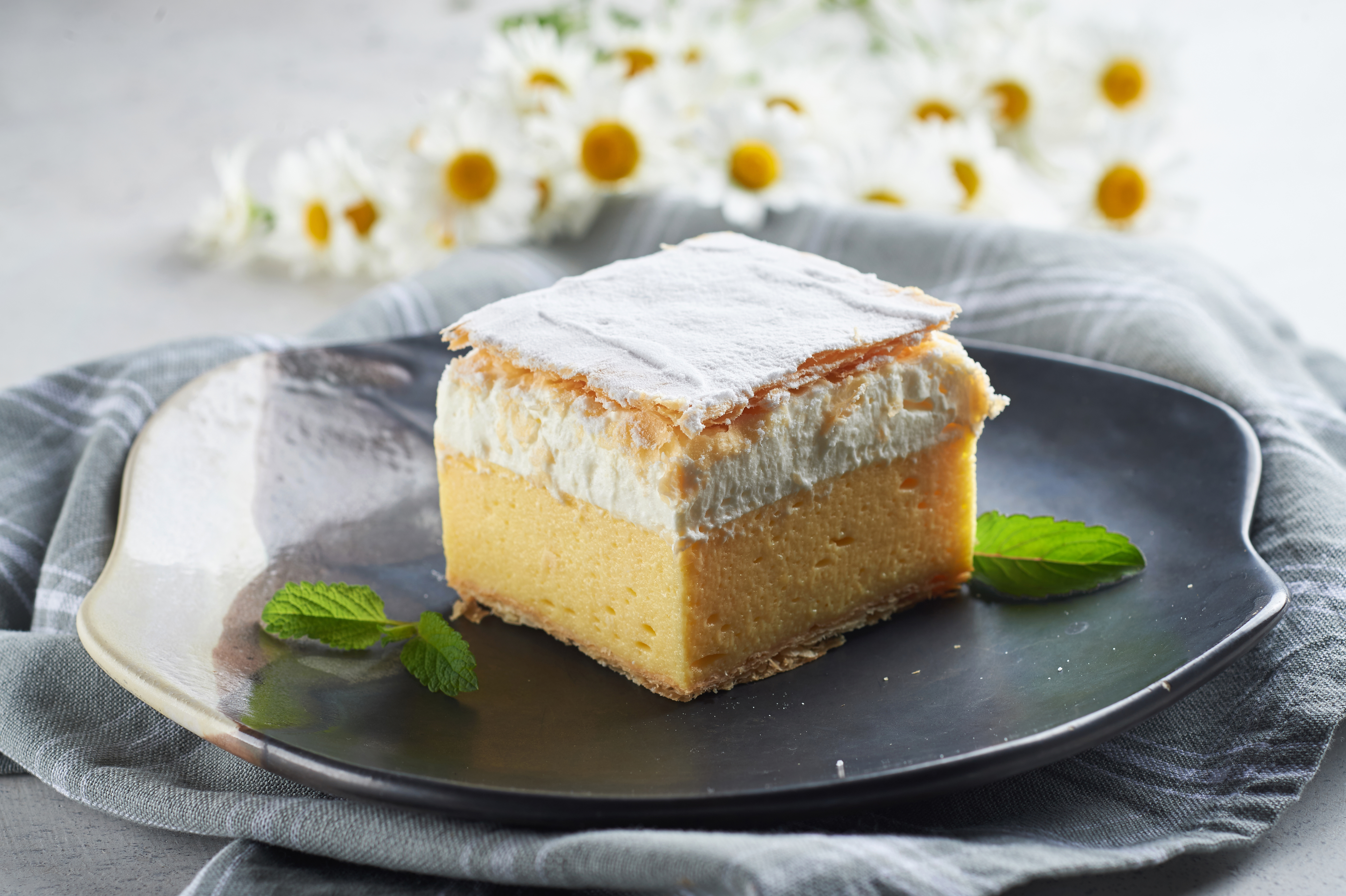 Eating kremna rezina by the Bled lake is the perfect way to end a day trip. Photo: Tomo Jeseničnik. Source: www.slovenia.info.
Where to get: in most any café and hotel in Bled. Some recommendations include Park Restaurant and Café, Slaščičlarna Zima, and Café Belvedere. It's also available in most confectioneries elsewhere in Slovenia. If you're in Maribor, check out Illich.
4. Pražen krompir
Slovenian roast potatoes have found their way to our dining tables in the 19th century, when potatoes in general began to be eaten in this area. The roast potatoes are made of boiled potatoes, which are then roasted on fat and onions. Sometimes, pork cracklings, soup, or wine are added to the mix. Slovenian roast potatoes are usually eaten as a side dish, but there is a Society for Making Roast Potatoes a Main Dish in Ljubljana—and it's pretty easy to guess what they're trying to do.
Roast potatoes and fried chicken: a classic Sunday lunch.
Where to get: most restaurants in Slovenia offer roast potatoes as a side dish, so long as they don't focus on foreign food. A good place to stop for roast potatoes is Gostilna Maribor in Maribor.
5. Kranjska klobasa
Kranjska klobasa or the Carniolan sausage is a sausage made out of pork (75–80 %) and bacon (20–25 %), with the addition of water, salt, garlic, and pepper. The mixture is then stuffed into pig intestines, smoked, and put through heat treatment.
The Carniolan sausage was first mentioned under the name "Carniolan" in 1896 and was named after the historic region of Carniola.
Kranjska klobasa at its best. Photo: Iztok Medja. Source: www.slovenia.info.
Where to get: some recommendations include Gostilna Arvaj in Kranj and Klobasarna in Ljubljana. If you're staying in the eastern parts of Slovenia, stop at La Cantina in Maribor for a bite.
6. Kraški pršut
Kraški pršut is a type of prosciutto with a Protected Geographical Indication within the EU, and is limited to the Slovenian Karst region. Generally speaking, prosciutto is a dry-cured ham. It is also well known in Italy and Spain, but the EU label marks Slovenian prosciutto as unique.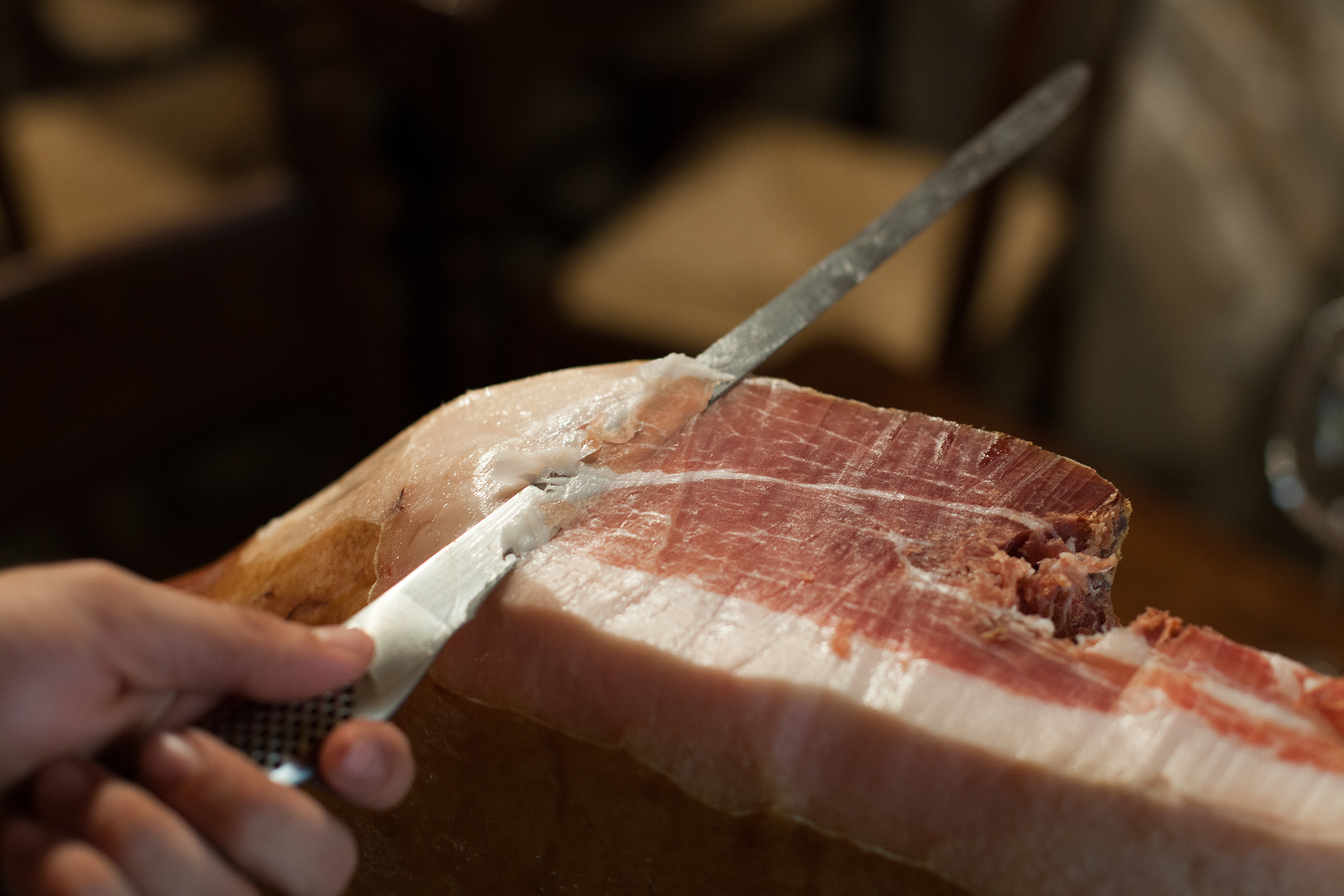 At least eight months of curing are necessary to make prosciutto. Photo: Boris Pretnar. Source: www.slovenia.info.
Where to get: you can buy it at most any grocery store, or get it as an appetizer in many restaurants, such as La Cantina or LeVino in Maribor. Brands to keep on the lookout for include Kras and Lokev. If you're in the Karst area, you can also buy it from local farmers.
7. Štruklji
Štruklji, or rolled dumplings, are a traditional Slovenian dish made of dough and many different types of fillings. Cooked or baked, sweet or savoury—štruklji can be eaten as the main dish, a side dish, or a dessert. Typical fillings are made out of cottage cheese, walnuts, tarragon, apples, poppy seeds etc., and even the dough can be prepared in many different ways. Typically a festive dish, they've since become one of the most representative foods in Slovenia.
Were to get: different places will have different types of štruklji, but some options include Moji Štruklji Slovenije in Ljubljana, Lectar in Radovljica, and Gostilna Amadeums in Ptuj.
8. Zaseka
Zaseka, a type of bacon jam, is a spread made of minced bacon and fat, and seasoned with salt and garlic. Bacon used for zaseka can be either smoked or fresh. Fresh bacon must be cooked first. Regardless of the type, the bacon is then minced, seasoned, put into containers, and covered with fat. Sometimes, meat is stored in the same containers. That meat is called tunka. Zaseka is typical for Styria, Upper Carniola, and the Mura Region.
Zaseka on a pizza? Why not! You can try this crazy combo in La Cantina Maribor.
Where to get: try countryside farm tourisms and most grocery stores. Brand suggestions include Loške mesnine, Kodila, and Ave-Mir Gornja Radgona.
9. Potica
Potica, or Slovenian nut roll, is a traditional dessert prepared all over Slovenia. First mentioned in 1575, potica used to be a dish for higher classes but became more accessible among the lower classes with time. Potica is made of yeast-raised dough covered with filling and rolled up into the traditional shape. A number of different fillings are used, some say as much as 80. The most popular is definitely the walnut filling. Other common fillings include poppy seeds, tarragon, and savoury spices. Slovenians traditionally eat potica for Easter and Christmas, and we believe the best potica is still made by our grandmothers.
No Cristmas or Easter is complete without potica. Photo: Turizem Bohinj arhiv. Source: www.slovenia.info.
Where to get: If you can, try to get homemade potica. If this is not an option, recommendations include Potičnica Blejski Otok in Bled, Gostilna pri Kulju in Velike Lašče, and Le Potica in Škofljica.
10. Pumpkin Seed Oil
This dark oil is made from pumpkin seeds and gets its trademark green colour from a substance found in the seeds that is similar to chlorophyll. Traditional Slovenian pumpkin seed oil comes from Styria and the Mura Region. It bears the Protected Geographical Indication, which sets it apart from its Austrian counterpart.
Where to get: big brands include Jeruzalem Sat, Oljarna Fram, Oljarna Kocbek, and GEA, but keep on the lookout for any farms selling their own homemade oil. Another good place to look for pumpkin seed oil are stores with organic food and other eco-friendly products.
11. Štajerska kisla juha
Traditionally prepared during pig slaughter time in the countryside, štajerska kisla juha or the Styrian Sour Soup consists of trotters, the tail, and the ears. Vinegar gives the soup both its typical sour taste and its name. Nowadays, this soup is often served at the end of wedding fests or New Year celebrations, and it's said to also be eaten after long nights full of alcohol.
Where to get: try Šiker in Pernica or Gostišče Vračko in Grušena.
12. Pohorska omleta
Pohorska omleta, or Pohorje Omelette, is a dessert typical for the Pohorje area. It's made of folded pound cake dough and filled with cranberry marmalade and whipped cream. This dessert is always served fresh—and always the same size, which is usually enough for two to four people. Franc Pogačar invented the recipe for Pohorska omleta in 1952 in a mountain hut called Poštarski dom. A few years ago, Hotel Tisa, previously Poštarski dom, began organising the Pohorska Omleta Festival in hopes of preserving the original recipe.
Where to get: Hotel Tisa on Pohorje, Koča na Pesku on Rolga, Ruška koča on Areh, Gostilna pri treh ribnikih in Maribor.
Slovenia has a large variety of traditional foods, and if you try everything from our list, you'll have only just scratched the surface. So keep your eyes open, and get ready to treat your taste buds to something new – there are many more traditional dishes for you to discover.